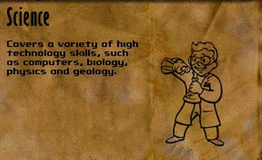 Science is one of the passive skills in FOnline. It is important for characters with the following professions:
Science is also required for gathering some materials, such as iron ore and minerals.
Science is influenced by the S.P.E.C.I.A.L. stat Intelligence:
1x Intelligence = 4x bonus to Science
The starting skill level is calculated by this formula:
4x Intelligence + 20% if tagged
Ad blocker interference detected!
Wikia is a free-to-use site that makes money from advertising. We have a modified experience for viewers using ad blockers

Wikia is not accessible if you've made further modifications. Remove the custom ad blocker rule(s) and the page will load as expected.