"The town was built after the Great War out of random pieces of junk, mostly of broken cars."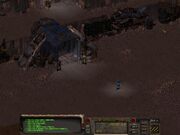 Introduction
Edit
One of the "Guarded" towns of the south, Junktown has only one entrance/exit and it's guarded 24 hours a day. Weapons can not be wielded while in this town (including a shovel) or the guards will come a runnin' and a gunnin'.
NOTE: You will only be able to enter the town from 08:00-20:00. Exiting is allowed anytime.

See Also
Edit
Ad blocker interference detected!
Wikia is a free-to-use site that makes money from advertising. We have a modified experience for viewers using ad blockers

Wikia is not accessible if you've made further modifications. Remove the custom ad blocker rule(s) and the page will load as expected.